This week our new CNC machine has arrived at our factory, bringing one of our most-important capacity-increasing goals for 2022 to a successful end.
As demand and further market opportunities are rising, our next challenge was to invest in a new CNC milling machine, driven by latest technology.
After a long period of deep research, we decided to go with the German manufacturer, SPINNER Werkzeugmaschinenfabrik GmbH, who offered us the TSS 42 Duplex milling machine in combination with the bar feeder of  TOP Automazioni S.r.l. .
During the whole research and implementation our long-term partner Rother Metal Kft. has been at our disposal all the time.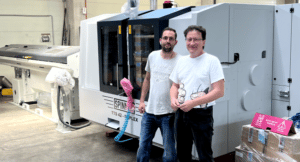 György H., Head of R&D, and Gábor N., Plant Manager, who invested a lot of time, energy and expertise into the project. Now it's time to play!
Future plans and goals
From this project we expect an increase of manufacturing capacity by up to 30-40%.
Lower lead times and even higher quality standards will give us the opportunity to meet the ever growing market demand for drilling products.
We are looking forward to a fruitful and exciting future with our new family member!